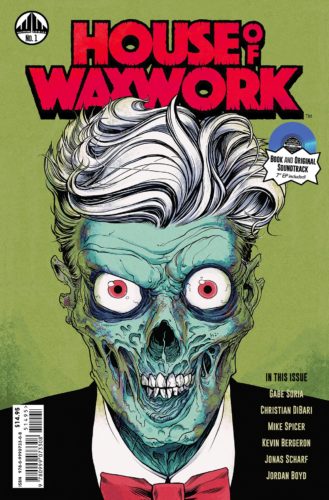 Title: House of Waxwork, Issue 1
Writers: Gabe Soria and Kevin Bergeron
Music: Rami Sharkey, Kevin Dredge, The Budapest Scoring Symphonic Orchestra, Douglas Pipes, and Creeper
Release Date: July 7, 2017
Cover Price: $14.95
Publisher: Waxwork Comics
—
This past summer I went to a local horror convention (Scares That Care), and I met one of the ladies involved with the making of House of Waxwork Issue 1, which is a comic/vinyl hybrid. She had a small table in the vendor area with a couple copies of this for sale, and offered to sign mine after I purchased it. When this was released by Waxwork Records online, I didn't have a record player, so I didn't bother buying it. Who wants to pay $14.95 plus $3 shipping just for a single comic issue? At Scares That Care, though, this woman was selling it for $15, offered to sign my copy, and I had my pick of the two available wax colors, so it seemed like a steal, even if I couldn't listen to the included record at the time.
This issue of House of Waxwork is the first in a new comic book series from Waxwork Records. It is an anthology series with a Tales from the Crypt vibe, and each issue will come with its own 7" record so that you can set the mood as you read through the story.
The meat of House of Waxwork is the comic itself. This debut issue is a 32-page, colored anthology, and it features two tales to give you nightmares. The cover features the "Die-Rector", who acts as the series' Crypt Keeper. The cover is quite striking, and both the front and back covers are of high quality, and textured.
This issue opens with an introduction from the Die-Rector. Unfortunately, it's only one-page, and I would have loved some more to get to know our host a little better before we dive into the rest of the series. Also upsetting is the fact that he doesn't appear between the two stories, and instead, all we really get of him is the one-page introduction.
The first story is titled Occult Slumber Party. It's about a vacationing family that play a board game, and get sucked into its nightmarish world. Imagine Jumanji meets Evil Dead. It has a familiar "been there, done that" feel to it, but is still enjoyable. Occult Slumber Party is penned by Gabe Soria, who is new to me, but did work on Batman '66. The art style is pretty solid, but not overly rich. Most the action is contained within in a single panel, which requires the reader to connect the dots.
The second story is called Lighthouse Keeper, and it tells the story of a recently released criminal that decides to run a lighthouse for 3 months. The bad news for him, though, is that this lighthouse might hold a dark past of its own. I really dig this story. The intro art for it feels like a nod to The Fog, but that's the only similarity to Carpenter's work. Admittedly, the ending did leave some questions for me. Lighthouse Keeper was written by Kevin Bergeron, who's the co-founder of Waxwork Records, and as far as I know, this is his first adventure into the world of comic writing. Fortunately, he does a solid job.
As I hinted at earlier, the 7" EP is offered in two different color variations: Occult Slumber Party Green Splatter, and Lighthouse Keeper Blue Splatter. I went with the Blue Splatter option, but both are beautiful in-person. The record comes in its own sleeve with the Die-Rector on it. The biggest highlight for me is that it comes with a download code to get a digital copy of the soundtrack on Band Camp. That's a huge plus in my book. Side A of the vinyl features the House of Waxwork theme song, which is performed by the Budapest Symphony Orchestra. It's a really solid tune, in the same vein as the Tales from the Crypt and Goosebumps theme songs. Also on side A is the Occult Slumber Party score, which is done by Douglas Pipes (of Krampus and Trick r' Treat fame). It is a synth score, and works well enough with the story. I will say that the side ended before I finished the story, but I may have glanced at my phone for a minute.
Side B is the score for Lighthouse Keeper. This one is done by Creeper, who I have never heard of. It starts off nice and slow, and then works into a synth score as well. Interestingly enough, the score shifted just as the story shifted, and felt very natural and fitting to the tale being told. I actually finished reading this one about a minute before the track ended.
For a debut effort, I have to say that I'm pretty impressed with the first issue of House of Waxwork. The $15 asking price isn't too bad, and can be broken down as a $5 comic, with a $10 EP. I would have liked a little more from the Die-Rector's introduction, and a closing bit from him could have helped, too. There is also a page of behind-the-scenes images, which is a nice addition. I'd definitely recommend this to anyone who likes anthology comics like Tales from the Crypt, and you don't have to have a record player since you can download the soundtrack with the provided code inside the package. I'll definitely be checking out the second issue when it lands.
---
Chris was raised on horror films, which gave him a deep love for the genre, especially its most quirky and offbeat titles (like A Nightmare on Elm Street 2). This love quickly turned into an obsession for cinema in 1997, when he decided he needed to see every major theatrical release. Video games (JRPGs), reading (anything but fantasy), and reality television (Survivor) are just some of his other passions. He's been with Cinefessions since 2013, and has been writing reviews all over the internet for the past twelve years.