(Originally Written for Inside Pulse Movies)
Hammer Horror is a name that is forever engrained in the hearts and minds of vintage horror fans everywhere. From the classic monster movies of the mid-late 1950s, to the sequel craze of the 1960s, all the way to the erotic turn of the 1970s, Hammer Horror has earned an enormous cult following since it doors originally closed in the mid-1980s (only to re-open in 2007). These original films can be recognized by their similar knack for style, strong scripts, solid acting, and, later, beautiful, naked women.
Twins of Evil, from 1971, is the third and final film in the loosely connected Karnstein Trilogy, which is based on the vampire novella entitled "Camilla". The Vampire Lovers (1970) and Lust for a Vampire (1971) comprise the rest of the Karnstein Trilogy, and are known for their explicit portrayal of lesbianism, which was quite shocking when the films were released in the early 1970s. Though this trilogy is known for its eroticism, Twins of Evil is the tamest of the series, and contains the least amount of nudity. Luckily the script and acting is so solid that the lack of nudity is barely noticeable.
In Twins of Evil, Maria and Frieda Gellhorn, two gorgeous, orphaned twin sisters (played by Mary and Madeleine Collinson, the first twin Playboy centerfolds), are sent to live with their Uncle Gustav (Peter Cushing, a Hammer Horror legend). Gustav is the puritanical leader of the Brotherhood, who seeks to destroy the vampires that they believe to be living in the area by burning young, beautiful women that they think may be works of the devil. The problem really lies in the Satan-worshipping Count Karnstein (Damien Thomas), not these young women. Karnstein practices black magic, and sacrifices a young girl to Satan in exchange for immortality in the form of a vampire. Meanwhile, Frieda becomes bored with her new life, and decides to sneak out to Count Karnstein's castle one night, which proves to be more exciting than she could have ever imagined.
When one goes to watch a Hammer Horror film from the 1970s – especially one from the Karnstein Trilogy – there's no doubt that he or she expects lots of blood, and even more naked women, making both important elements of this film. Twins of Evil is interesting, though, because there is so little of either. What is here is done quite well, however; especially the nudity. The Collinson twins are exceptionally beautiful women, and even though only one of the twins gets undressed, it's done in such a seductive and erotic way, that it remains memorable even after the credits roll. There are another couple moments in the film where the eroticism is less explicit and more implied, and these are also handled well. The movie isn't overwhelmingly erotic, but it still clearly fits into the erotic vampire subgenre that Hammer Horror created in the 1970s.
The real star of the film is Peter Cushing. The man is wonderful as the religious fanatic, and really proves why he's such a legendary name. It has been said that Peter Cushing and Christopher Lee were essentially Hammer Horror's version of Universal stars Bela Lugosi and Boris Karloff, and Cushing lives up to this lofty comparison tenfold in Twins of Evil. This movie was one of the first films that Cushing filmed after his wife, Violet, died, and the pain that Cushing must've been going through in his personal life comes out in this role, which is a brooding and emotional character who is trying his best to be a good man. Those new to Cushing's work can get a terrific look at the raw talent that the man possessed with his performance in Twins of Evil.
The story of Twins of Evil is relatively simple, and the plot structure follows suit. There is nothing revolutionary or groundbreaking about the film, but it succeeds because of the work of the cast. Even the Playboy models turned actresses do a fine job, though it is obvious they were chosen for their beauty first, and acting prowess second. There's a charm about the film that welcomes the viewer in, and an erotic undertone that keeps its audience engaged. If it wasn't for a weak final act, it might be remembered as one of Hammer's better outings, but because of this obviously rushed, almost comical finale, the movie gets passed over for stronger films, like the first two films in the Karnstein Trilogy (The Vampire Lovers, and Lust for a Vampire). That said, Twins of Evil is still a film worth seeking out. It's a fun erotic vampire romp, and is recommended for fans that fill that niche.
---
Video Quality:
Synapse Films is a dream come true for genre fans, releasing lesser-known horror films with more care than most big budget releases see. Twins of Evil may never have seen a Blu-ray release from another company, and most certainly wouldn't have been given such a careful HD transfer. As one might expect from that introduction, this Twins of Evil Blu-ray looks really nice. There are a couple moments that look worse than others – most notably the opening sequence – but even those few scenes are acceptable. There is quite a bit of film grain, as one should expect, but no notable imperfections to list. Synapse has done a great job with the Blu-ray transfer. The film is presented in a 1080p widescreen, 1.66:1 aspect ratio (the original aspect ratio was 1.85:1 according to IMDB).
---
Audio Quality:
The audio does a fine job as well, though it isn't pushed to the limit by any stretch of the imagination. This Blu-ray offers the original mono DTS-HD MA English 2.0 option, as well a bonus DTS-HD MA music and effects track that removes the dialogue. I'm not entirely sure of the point of a track like this, but it acts exactly as advertised for anyone who's interested. There are English SDH subtitles available as well.
---
Special Features:
The special features are where this release shines:
DVD Copy of Twins of Evil
The Flesh and the Fury: X-posing Twins of Evil (1:24:36): This feature-length documentary would be worth a purchase by itself, let alone as a bonus feature on this release. Not only does this documentary cover virtually all aspects of Twins of Evil, but it also gives a great overview of Hammer Horror in general, explaining its turn from the classic monster flick of the 1950s to the erotic vampire movies of the 1970s. It's loaded with interviews from leading Hammer Horror experts, covers the Karnstein Trilogy in detail, and is plain fun to watch. It's also noteworthy that this special feature contains far more nudity than the feature film it covers! This special feature is the only one, excluding the U.S. trailer, which is available on both the BD and DVD.
The Props that Hammer Built: The Kinsey Collection (23:28): This featurette will be interesting for die-hard Hammer Horror fans. It covers one man's collection of old Hammer props. Many of the old props Hammer created were destroyed when the company started going under, which makes these items quite rare. The feature isn't enthralling, but it is another solid look at some of the history behind Hammer.
Motion Still Gallery (14:01): Unlike other still galleries I've seen included on releases, this gallery, as the name implies, plays automatically through a couple dozen photographs. The pictures range from behind the scenes stills, to publicity shots, to marketing posters, and is another way to enjoy the natural beauty of the Collinson twins.
Deleted Scene (1:09): Thank goodness this scene was deleted as it would have chopped up the pacing of the film a great deal. This shows a song that is sung during a choir lesson. The song isn't exactly terrible, but it doesn't fit in the film, and the director was smart in cutting it out.
TV Spots (1:10): Three short television commercials for Twins of Evil. All three are similar in style and tone.
Original U.S. Double Feature Trailer (2:39): This is a trailer for Twins of Evil and Peter Sasdy's Hands of the Ripper, which were originally released as a double feature when they came to the United States. It's really more like two separate trailers mashed together to create one double feature trailer, and isn't anything unique.
U.S. Theatrical Trailer (2:31)
---
Artwork:
The original artwork for Twins of Evil is quite nice. It puts emphasis on Count Karnstein, but also features the titular twins. I would buy this cover art as a stained glass window in a heartbeat, and that's the style it boasts. The discs both contain still shots from the film, and the inside cover has a shot of the twins. It's really solid aesthetically, but I would've loved more of the original artwork that appears on the cover to find its way all across the release.
---
Overall:
This is another special release from Synapse Films, mainly because of the work that went into the special features. What makes this Blu-ray worth the purchase, though, is how well Twins of Evil holds up today. Peter Cushing is absolutely stellar, and the Collinson twins are beautiful, making this a movie worth seeing. The solid HD transfer is just the icing on the cake, and this release comes highly recommended.
---
---
This Blu-ray was released by Synapse Films on July 10, 2012. Twins of Evil (1971) was directed by John Hough, and written by Tudor Gates. The film is 87 minutes in length, and is not rated.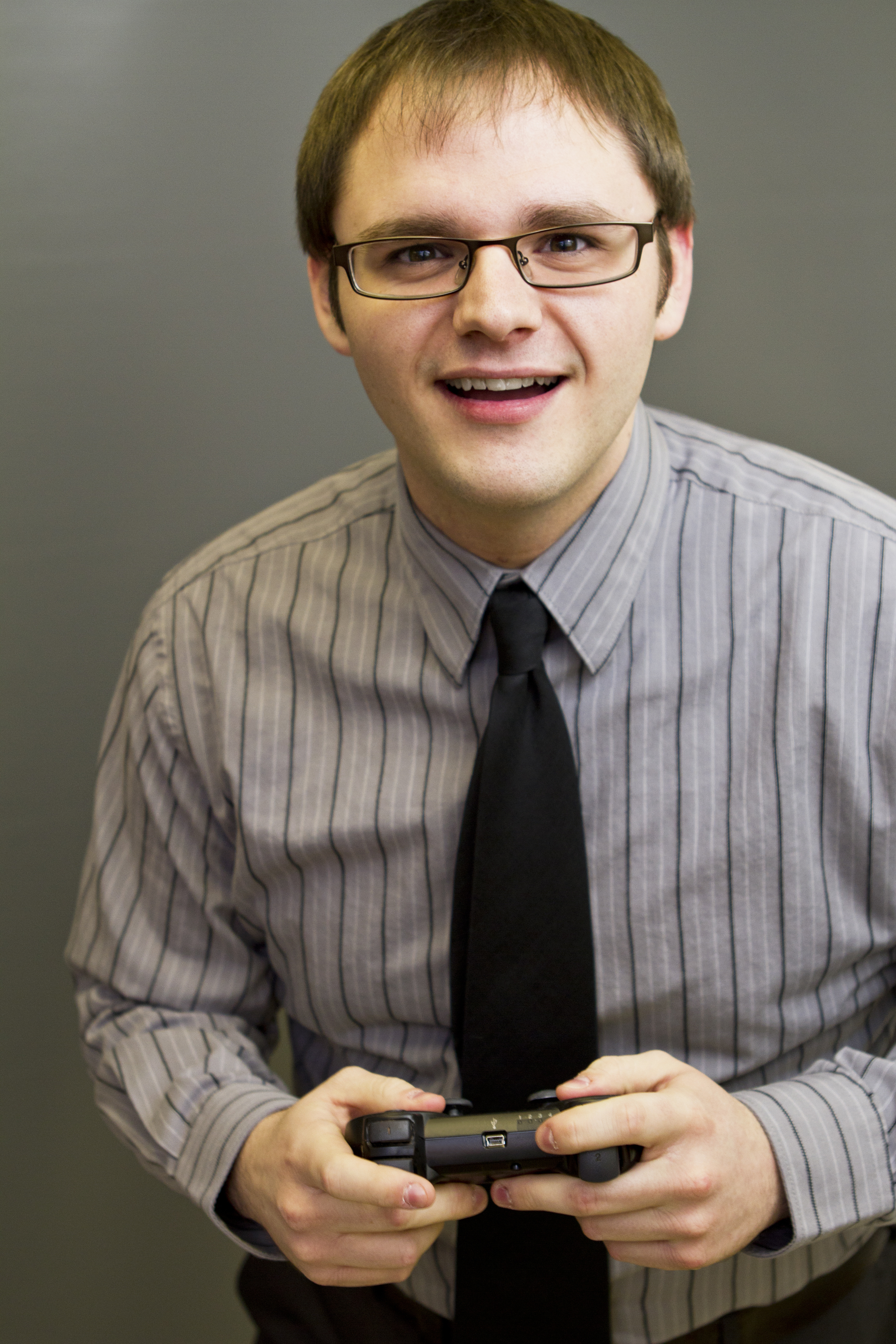 Branden has been a film fan since he was young, roaming the halls of Blockbuster Video, trying to find the grossest, scariest looking VHS covers to rent and watch alone in the basement. It wasn't until recently, though, that Branden started seeking out the classics of cinema, and began to develop his true passion for the art form. Branden approaches each film with the unique perspective of having studied the art from the inside, having both a bachelor's and master's degree in acting. He has been a film critic since 2010, and has previously written for Inside Pulse Movies, We Love Cult, and Diehard Gamefan. His biggest achievement as a film critic, to date, has been founding Cinefessions and turning it from a personal blog to a true film website, housing hundreds of film and television reviews, and dozens of podcasts.