A Lifetime of Film covers one specific year of a Cinefessions' writers existence, from birth to now, and goes over their top ten films from that year. It stems from a meme on Letterboxd, and is simply being expanded upon here. This week, Ashe covers 1995.

---
I graduated high school in 1995. I had a lot of time to kill over the summer before starting college. Even in college there was a local, $2 theater, and I was a VHS rental fiend. This was also the year I started to get heavily into tabletop RPGs with Rifts, Star Wars D6, some Dungeons and Dragons 2nd Edition, Mutant Chronicles, Shadowrun, and Battlelords of the 23rd Century. No, I wasn't dating anyone at the time, why do you ask? I cut my initial list of 94 watched films watched down to 31, and then had to narrow it down to ten from there. This does leave out a few films I loved. Honorable Mentions include Mr. Holland's Opus, Toy Story, Braveheart, Strange Days, Dangerous Minds, Copycat, Heat, Clueless, Die Hard with a Vengeance, Get Shorty, The City of Lost Children, A Goofy Movie, First Knight, Tank Girl, Cutthroat Island, Ace Ventura: When Nature Calls, Mortal Kombat, Tales from the Crypt: Demon Knight, and The Quick and the Dead. Mr. Holland's Opus just about tied for my number ten spot, and while I love the film, the one I put in at number ten just feels like a smarter film, and still has the heart that Opus does. Toy Story, while I've always thought was fantastic, isn't nearly my favorite of the Pixar films. While I love Tales from the Crypt: Demon Knight, I can recognize it as a kind of cult film that a lot of people aren't going to get. I love it, though, and let's face it, while it's fun it's not nearly as well put together as it could have been. So what are my top ten?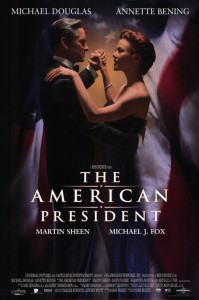 10. The American President (dir. Rob Reiner)
One of Aaron Sorkin's first stabs at American politics before he started up one of my favorite television series of all time, The West Wing. Widowed U.S. president Andrew Shepherd, one of the world's most powerful men, can have anything he wants — and what he covets most is Sydney Ellen Wade, a Washington lobbyist. But Shepherd's attempts at courting her spark wild rumors and decimate his approval ratings. The cast in this film couldn't get any better. Annette Benning, Michael J. Fox, Michael Douglas, Martin Sheen, and Richard Dreyfuss all bring this wonderful and completely fictional Washington D.C. to life, and through some brilliant writing and acting it's a world we wish could have actually existed even back in '95. I loved the romance angle on this one and the fact Sorkin doesn't waste time explaining to people how everything works and just lets it all play out along with the drama is great.
9. Empire Records (dir. Allan Moyle)
It seems we've had a generational film nearly every decade that teens can relate to that ends up standing the test of time. In the '80s it was The Breakfast Club, the start of this millennium had Mean Girls, and in the '90s, for me at least, it was Empire Records. The film focuses on the employees of an independent music store who learn about each other as they try anything to stop the store from being absorbed by a large chain. This is another of those films with a fantastic cast. Liv Tyler, Renée Zellweger, Ethan Embry, Robin Tunney, Anthony LaPaglia, and the one who makes this film an instant classic with his performance, Rory Cochrane. It's quirky, it's funny, it has a great sense of humor, a fantastic '90s soundtrack, and it's fun. At the same time, it manages to pull off the same trick that Mean Girls and The Breakfast Club do, and gets you thinking about how well you really know that person you see every day.
8. Crimson Tide (dir. Tony Scott)
The last time my class got together before graduation was to see this film at our local theater during school hours. Crimson Tide takes place on a U.S. nuclear missile sub where a younger first officer stages a mutiny to prevent his trigger happy captain from launching his missiles before confirming his orders to do so. 1995 would appear to be a year of stellar casts, and this one is no exception. Gene Hackman chews the scenery amazingly well as the captain of the Alabama. Denzel Washington hasn't really ever let me down in any of his films. We get a pre-Lord of the Rings Viggo Mortensen, who's plays the split loyalty between his friend and his Captain perfectly. George Dzundza, who I'd only ever seen in Law and Order up until that point, and James Gandolfini, who plays the Captain's loyal thug throughout before he ever got his gig on The Sopranos. Tony Scott manages to make the life aboard the submarine feel ever the more claustrophobic, and there are some great shots in this. The haunting moments of the score from Hans Zimmer only help to accent the more action packed moments.
7. Mallrats (dir. Kevin Smith)
This was my first exposure to Kevin Smith and it's still my favorite of his films. It's a pretty simple storyline: both dumped by their girlfriends, two best friends seek refuge in the local mall, and hilarity ensues as hanging out in the mall leads to all sorts of situations. Smith's dialogue is quick and smart in this. He's got a great cast to work with on top of things. Yes, it's a theme for films in '95 with me. I love a great cast and Jason Lee leads the motley crew that Smith assembled, including himself and Jason Mewes, Jeremy London, Ben Affleck, Shannon Doherty, Claire Forlani, Joey Lauren Adams, Stan Lee (if only briefly), and Michael Rooker. While this won't win many visual awards, it's the characters who are front and center, along with Smith's great script and choice of music to go along with what's on screen.
6. Desperado (dir. Robert Rodriguez)
While I do love Sin City and From Dusk 'Til Dawn, I have to say this is the film I still think of first when someone mentions Robert Rodriguez. Antonio Banderas takes over the title role of a killer looking for justice against some drug dealers. I have to say he's a pretty big upgrade over the original, but I also saw Desperado before I ever saw El mariachi so that's how I knew the character best. The opening scene with Steve Buscemi and Cheech Marin is an instant classic. Salma Hayek does a great job as well. The action is king here and Rodriguez plays that for all its worth with some really creative sequences involving gun play that hasn't ever really been replicated since, although a few films have come close.
5. GoldenEye (dir. Martin Campbell)
By the time this hit theaters I'd given up on my boyhood love of James Bond films. I'd never liked Dalton's take on the character, and I'd lost interest in Moore as the years passed. I still watched a Connery or two, and then they put Pierce Brosnan in the role, gave it a bit of a revamp to put some of the fun back into it, and then brought in a bunch of actors I loved, including Sean Bean, Izabella Scorupco, Judi Dench, Alan Cumming, and the always amazing Famke Janssen. Bond was back in a big way and I loved the opening sequence that would have taken place when Brosnan was going to take over the role and ABC wouldn't let him. There were nods to the older films without being a slave to them and it brought Bond into a more modern world. Plus, it made one hell of a Nintendo 64 game.
4. Ghost in the Shell (dir. Mamoru Oshii)
In the year 2029, the barriers of our world have been broken down by the net and by cybernetics. This brings new vulnerability to humans in the form of brain-hacking. When a highly-wanted hacker known as 'The Puppetmaster' begins involving them in politics, Section 9, a group of cybernetically enhanced cops, are called in to investigate and stop the Puppetmaster. This is pretty much the quintessential cyberpunk film. While I think the Stand Alone Complex TV show, and even the Arise series delve deeper into the universe, this is the film that catapulted the manga and the universe into the minds of people everywhere. The animation is amazing, the score and soundtrack selection is fantastic. They made a special edition with more cg enhanced visuals and a few redone animations, but it didn't really add to it. This film is amazing as it was originally released, and is a great thriller on top of being great sci-fi and action.
3. Apollo 13 (dir. Ron Howard)
Technical troubles scuttle the Apollo 13 lunar mission in 1971, risking the lives of astronaut Jim Lovell and his crew in director Ron Howard's chronicle of this true-life story, which turns a failed journey into a thrilling saga of heroism. Drifting more than 200,000 miles from Earth, the astronauts work furiously with the ground crew to avert tragedy. I'm a sucker for anything related to NASA and will always give it a shot, but this is fantastic any way you slice it. There's a great cast, it's based off a true story with only minor liberties taken versus what actually happened, and James Horner delivers an amazing score. I still remember an article where NASA praised the effects shots in this as they re-created the Apollo launch sequences and mentioned they were highly accurate and simply amazing to watch. Throw in a cast including Tom Hanks, Bill Paxton, Kevin Bacon, Gary Sinise, Ed Harris, and Kathleen Quinlan and you've got yourself a serious drama-filled effects film with a great cast to keep it all grounded.
2. The Usual Suspects (dir. Bryan Singer)
Following a truck hijacking in New York, five conmen are arrested and brought together for questioning. As none of them are guilty, they plan a revenge operation against the police. The operation goes well, but then the influence of a legendary mastermind criminal called Keyser Söze is felt. It becomes clear that each one of them has wronged Söze at some point and must now pay up. The payback job leaves 27 men dead in a boat explosion, but now the real question arises: who actually is Keyser Söze? That is the question, and I remember late at night after having watched the film for the first time, standing up in my room and shouting "I am Keyser Söze!"  This is an amazing crime thriller and continues the trend of having an excellent cast. Singer really knows how to build up a thriller and it definitely shows here. The script is fantastic, coupled with the acting chops of Kevin Spacey, Stephen Baldwin, Gabriel Byrne, Benicio del Toro, Kevin Pollak, Chazz Palminteri, and Pete Postlethwaite to pull it all together. It's nothing short of fantastic.
1. Se7en (dir. David Fincher)
Two homicide detectives are on a desperate hunt for a serial killer whose crimes are based on the "seven deadly sins" in this dark and haunting film that takes viewers from the tortured remains of one victim to the next. The seasoned Det. Sommerset researches each sin in an effort to get inside the killer's mind, while his novice partner, Mills, scoffs at his efforts to unravel the case. This is my favorite Fincher film, although I have to admit there are quite a few I haven't seen. This is a dreary serial killer thriller that is well put-together, and filled to the brim with texture, color, and lots of great shots. It helps that Brad Pitt, Morgan Freeman, Gwyneth Paltrow, R. Lee Ermey, Leland Orser (briefly, but damn does he sell that trauma) and, of course, Kevin Spacey, are all in the cast. Spacey just adds the icing to this delectable cake. I still remember going to see this in theaters with all the other art majors when it came out, and how pumped we all were before and after. This is still an amazing piece of art, and an essential piece of any film lover's collection.
Born the same year as Star Wars, it seems Ashe was destined to be into films with big impacts, explosions, and laser swords. With a love for sci-fi and horror, Ashe has a thing for games of both the tabletop and video variety. He is living a charmed, married life of sixteen years, along with several cats, a dog, and a bearded dragon. Ashe currently writes for Diehard Gamefan, covering video and tabletop games since 2008. Starting with Cinefessions just a few years ago, he has decided to tackle one of his original passions: film.