Movies may be our first love here at Cinefessions, but we are proud dorks in the truest sense of the word. We love not only movies, but video games, books, comics, board games, men and women in spandex, and everything else that goes along with nerd culture. As longtime readers of graphic novels, comics, and trade paperback collections, we are excited to bring you a formal look at this genre in the form of criticism. The Cinefessions team will use Graphic Novel Capsule Reviews to look at a single issue of a comic series, a collected trade paperback, or a stand-alone graphic novel, and review it based on five of the most important aspects of the medium. This allows us to discuss a comic or graphic novel clearly, decisively, and with brevity. These are not our full thoughts, just a highlighting of the major pros and/or cons.
---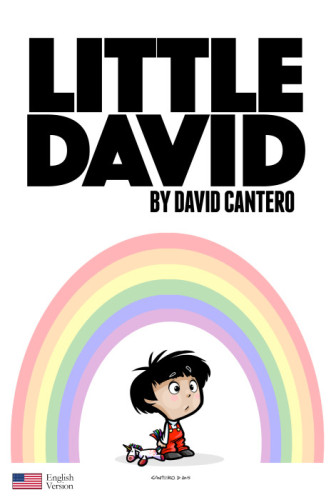 Title: Little David
Writer/Artist: David Cantero
Release Date: August 26, 2015
Cover Price: $4.99
Publisher: Northwest Press
—
Story
"From the mischievous mind of David Cantero comes Little David, an exploration of all the ways kids become part of a family, from same-sex parents to in-vitro fertilization to adoption to step-parents. Meet Little David and all his Little friends as they ask questions, make jokes, and figure out that they're not really that different after all."
This is the way the product is described online. At its core, it sounds like a fantastic read, and I was legitimately excited to read this. The book opens with a message from David Cantero explaining why he picked this topic and how he wanted to show that, to kids, it doesn't matter how you were born.
I'm sad to report that this collection fails to do what the artist set out to do. Some of these kids feel like bullies. Being a gay man, one who spent the last 30-odd years of his life living in a fairly rural area, I've never really experienced prejudices. The things two of these boys say to Little David feel cruel and hurtful. Again, I like the idea here, and a few of the conversations work really well, but David Cantero missed the mark for what he was aiming for.
Writing
I originally thought this would have a plot, but you won't make the same mistake. Don't go in expecting one because it doesn't have one. It feels like a Calvin and Hobbes comic collection. Nothing really connects pages besides the characters. Each character has their own backstory of how they came to be, and the type of parents they have. This leads to the kids talking and joking about how they have two moms or how Little David wants to mix the love of his two dads and make lots more brothers and sisters. It's this type of innocence I was expecting from this whole collection.
Artwork
David Cantero goes with a very simplistic approach when it comes to his art style. Each page is white and has three sets of dialogue, always between two sets of kids (almost always with Little David himself). I like the style of the characters, which is very cute and kid-like. The highlight of this collection is the single page colored pictues. My favorite is Little David riding a rainbow unicorn; it's quiet majestic. The whole book is also in color, and sports 68-pages in total.
Originality
Gay comics are a rather niche market it seems. I've read only a few myself, and you can't just go into a comic book store and grab the latest issues. What I have read in the past was always really good, with the gay themes being a part of who the characters are instead of a focal point. The idea behind Little David is very original, but with its sloppy execution, it misses its own point, and becomes a bit crass.
Intangibles
I wish I could sit down with Mr. Cantero and ask him about certain sections of this book, picking his brain about why he thought they fell into the guidelines he sets forth with his message at the start because maybe I'm missing something. I asked Branden to glance over this collection after I read it because I wanted to make sure it wasn't just me, and a straight perspective can be helpful at times. Judging by the texts I received, Branden felt the same way I did about this collection.
The Verdict
Little David has all of the trappings to be a cute and fun comic series for those kids who don't have the typical family. Sadly, this starting point is a bit rough, and misses its own mark quite a bit. In fact, it might do more harm than good for its target audience (younger readers). However, I did enjoy the artwork, and a few of the strips work really well. I would not only give Little David another chance in a future release, but would like to see what else David Cantero has to offer because his larger pieces in here are really nice.
Little David was provided for review by Northwest Press, and it was read digitally on my Kindle Fire HD. The book released on August 26th and is available on iTunes, ComiXology, Gumroad, and direct from Northwest Press in a variety of digital formats for $4.99.
Chris was raised on horror films, which gave him a deep love for the genre, especially its most quirky and offbeat titles (like A Nightmare on Elm Street 2). This love quickly turned into an obsession for cinema in 1997, when he decided he needed to see every major theatrical release. Video games (JRPGs), reading (anything but fantasy), and reality television (Survivor) are just some of his other passions. He's been with Cinefessions since 2013, and has been writing reviews all over the internet for the past twelve years.